Solar PV system is the smart long-term investment for residential and commercial properties. The latest technology solar panels are pretty easy to install, maintain and operate, with the commonly known benefits of savings on energy bills and reducing carbon footprints. However, most of us find it complicated to correctly size our system. In this article we shall highlight a few steps that shall help you decide the size of the solar PV system to fit your property.
1. Find out your kWh per hour usage.
Don't worry it isn't as complicated as the headline states. It's a pretty easy calculation. You shall need your 12 months bills to make this calculation more accurate. Look at all the bills and see what time of the year is your energy consumption at the peak? Mostly, summers are the season when we tend to use a lot of electricity, mainly due to Air conditioners. Now add up your kWh usage for 12 months and divide it by 12 and the result shown on your calculator is your average monthly consumption. What next? Let's figure out your daily usage. Once you get monthly usage divide it by 30 to get your daily average consumption usage. How is this helpful? Your daily usage plays a significant role in determining the size of your solar PV system. If you find it technical to understand this calculation, feel free to call our team and learn more about your energy usage and system sizing.
2. Learn about your peak sun hours
Your location and local climate plays a great role in your solar power generation and your peak sun hours. Look up your sun hours on the chart below evaluated by CEC to determine the number of hours per day the sun produces peak sunlight. Make a note of your average sun hours a day.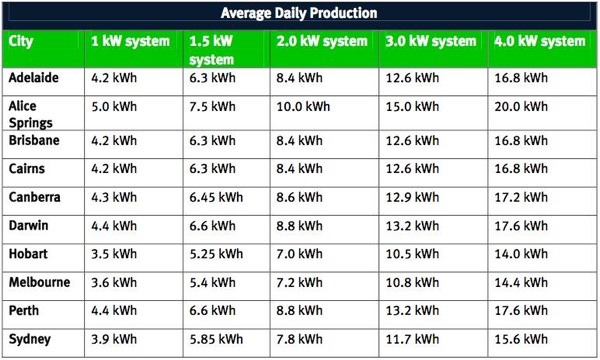 3. Let's calculate the size of your solar system
Now, the final step is to calculate the right size of your solar system. Take your daily kWh energy consumption and divide it by the peak sun hours. Now multiply the result with your panel efficiency to get the average size of solar system required for your property.
Daily kWh / by average sun hours * Panel Efficiency factor = System size
Now what is panel efficiency and where will you find it? Clean Energy Reviews define panel efficiency as the measure of the amount of sunlight (irradiation) that falls on the surface of a solar panel and is converted into electricity. Due to the many advances in photovoltaic technology over recent years, the average panel conversion efficiency has increased from 15% to well over 20%. Arise solar offers high efficiency solar panels that provide amazing results for the lifespan of solar. 
The products and services are Important too.
We offer a wide range of solar panel systems to work with your budget and ensure you're receiving the highest quality panels, designed for maximum performance and efficiency over time. We work with Australia's most trusted solar panel brands, with systems engineered for our unique and changing climate. We at Arise Solar make sure your solar panel system is a worthwhile investment. Contact our experienced solar consultants today and get a customized solar solution for your property.